Record-breaking 500+ International Buyers at 3rd Edition of GJEPC's International Gem & Jewellery Show in Dubai
RECORD-BREAKING 500+ INTERNATIONAL BUYERS AT 3RD EDITION OF GJEPC'S INTERNATIONAL GEM & JEWELLERY SHOW IN DUBAI
10th October 2023
The Gem & Jewellery Export Promotion Council (GJEPC), the apex trade organization dedicated to promoting Indian gem and jewellery exports worldwide, presented the highly anticipated 3rd edition of the International Gem & Jewellery Show (IGJS) in Dubai. The show is supported by the Ministry of Commerce and Industry, Government of India, and the Embassy of India in UAE. Additionally, it is supported by Dubai Gold and Jewellery Group, while Suntech is the co-sponsor, and Sequel serves as the logistics partner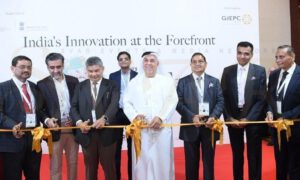 This premier event is set to captivate audiences from October 10th to 12th, 2023, at the Intercontinental Festival City Dubai. A record-breaking 500 buyers from 32 different countries are expected to attend the IGJS show this year.
IGJS Dubai has 45 exhibitors featuring an impressive array of product categories, including Diamond & Gemstones Studded Jewellery and Gold Jewellery. With over 50 booths to explore, attendees can expect a diverse and luxurious selection of jewellery creations. This curated exhibition has a global focus and is dedicated to offering top-quality Indian jewellery exclusively to international buyers.
The inauguration ceremony was attended by Mr. Tawhid Abdullah, chairman of Dubai Gold & Jewellery Group; Mr. Kirit Bhansali, Vice Chairman, GJEPC; Mr. Nilesh Kothari, Convener, International Exhibitions, GJEPC; Mr. Milan Chokshi, Co-convener, International Exhibitions, GJEPC; Mr. Nirav Bhansali, Convener, National Exhibitions, GJEPC; Mr. Ramesh Vora, GJEPC International Coordinator; and Mr. Sabyasachi Ray, ED, GJEPC amongst others.
Mr. Tawhid Abdullah, Chairman, Dubai Gold and Jewellery Group, said, "We are happy to host GJEPC's International Gem & Jewellery Show as it is a good way to promote Dubai as a destination and well as help the international trade to congregate at this beautiful venue. We are proud of the increase in bilateral gem & jewellery trade after the signing of the India-UAE CEPA. It's a win-win situation. However, we encourage GJEPC to host larger exhibitions and invite more and diverse set of jewellers from different parts of India to join the Dubai show. GJEPC adopts best-in-class practices in trade shows and we would like to adopt the same in our shows. This mutual exchange of ideas will nurture closer ties and strengthen bonds between India and Dubai."
Mr. Vipul Shah, Chairman, GJEPC, said, "Middle East has been a significant market for the Indian gem and jewellery industry. Also, Dubai being a distribution center, serves as a hub for jewellery trade across GCC, CIS, Far East, and some parts of Europe, which adds to its strategic importance and influence in the global jewellery ecosystem. The gem and jewellery trade between India and UAE has grown, particularly following the India-UAE CEPA agreement. UAE imports a total of $10.48 billion worth of jewellery from around the world, and a significant portion, approximately 30% is sourced from India, amounting to approximately $3.12 billion."
Mr. Kirit Bhansali, Vice Chairman, GJEPC said, "As the apex body of gem and jewellery trade in India, GJEPC is spearheading several export-led initiatives in our endeavor to take Indian jewels to the world. India today is the preferred sourcing destination for Gems and jewellery, and the presence of more than 500 international buyers at IGJS Dubai establishes India's significance as a favoured jewellery supplier worldwide. And I am happy to see that the India Jewellery Exposition Centre (IJEX) in Dubai has facilitated trade worth $3.3 million so far."
Mr. Nilesh Kothari, Convener of the International Exhibition at GJEPC, commented, "IGJS 2023, now in its third year, has firmly established itself as a cornerstone event in GJEPC's annual calendar. This platform is exclusively dedicated to showcasing Indian jewellery to international buyers, underscoring its significance. It is evident that this show will continue to be instrumental in the years ahead, reinforcing India's prominent standing in the global gem and jewellery industry. In addition to this, as a trade facilitator appointed by the Government of India to create a resilient and business-friendly environment, GJEPC actively engages in promotional activities like Buyer-Seller Meets, India Global Connect, India Pavilions, and IGJS Dubai, among others.
Over 500 buyers from 32 different countries are attending the event. These countries include Algeria, Azerbaijan, Bahrain, Bangladesh, Belarus, Belgium, Bolivia, Brazil, Canada, Dominican Republic, Egypt, France, Iran, Jordan, Kazakhstan, Kuwait, Lebanon, Malaysia, Oman, Palestine, Qatar, Russian Federation, Saudi Arabia, South Arabia, South Africa, Spain, Sri Lanka, UAE, UK, Uruguay, USA, and Uzbekistan.
The buyers' profile is equally diverse, with wholesalers, retailers, importers, and exporters representing all sectors of the jewellery industry worldwide. This dynamic mix of attendees ensures that IGJS Dubai is the perfect platform for networking, discovering new trends, and conducting business in the global jewellery marketplace.
As part of council's commitment to strengthening trade relations with the UAE, GJEPC established the India Jewellery Exposition (IJEX) center in Dubai. IJEX serves as a dedicated B2B platform, providing GJEPC members with the opportunity to exhibit their products and secure orders in the UAE market throughout the year. It is estimated that IJEX has facilitated trade worth $3.3 million so far. I urge all members to take advantage of this establishment by GJEPC in Dubai and accelerate their businesses.
About The Gem and Jewellery Export Promotion Council (GJEPC):
The Gem & Jewellery Export Promotion Council (GJEPC), set up by the Ministry of Commerce, Government of India (GoI) in 1966, is one of several Export Promotion Councils (EPCs) launched by the Indian Government, to boost the country's export thrust, when India's post-Independence economy began making forays in the international markets. Since 1998, the GJEPC has been granted autonomous status. The GJEPC is the apex body of the gems & jewellery industry and today represents 9000 members in the sector.  With headquarters in Mumbai, GJEPC has Regional Offices in New Delhi, Kolkata, Chennai, Surat and Jaipur, all of which are major centres for the industry. It thus has a wide reach and is able to have a closer interaction with members to serve them in a direct and more meaningful manner. Over the past decades, GJEPC has emerged as one of the most active EPCs and has continuously strived to both expand its reach and depth in its promotional activities as well as widen and increase services to its members.