Ace Actor and Brand Ambassador Anil Kapoor inaugurates Malabar Gold & Diamonds store in Borivali
ACE ACTOR AND BRAND AMBASSADOR ANIL KAPOOR INAUGURATES MALABAR GOLD & DIAMONDS STORE IN BORIVALI
23rd October 2023
Malabar Gold & Diamonds, one of the largest jewellery brands of the country, has launched its 7th store in Mumbai at Borivali. Anil Kapoor, legendary actor and brand ambassador of Malabar Gold & Diamonds, inaugurated the store on October 21, 2023 in the presence of key management officials of Malabar Gold & Diamonds and well-wishers
Located at L.T. Road, Near Veer Savarkar Garden, the state-of-the-art store is spanning over 10,000 sq. ft, across three floors. ft. It boasts of a private lounge offering personalised service and a wedding arena exclusively for bridal jewellery shopping. The store showcases more than 20,000 designs comprising mesmerizing collections in bridal, solitaire, diamond, and lightweight jewellery. It also displays unmatched varieties from the renowned sub-brands of Malabar, including Mine diamond jewellery, Ethnix handcrafted designs, Precia gemstone collections, and more.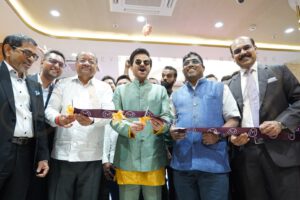 Commenting on the launch of the store, M.P. Ahammed, Chairman, Malabar Group said, "We are delighted to launch our store at Borivali, one of the most happening suburbs of Mumbai. The Borivali store will further strengthen our association with the Maximum City. With an impressive range of collections, fair prices, a luxurious interior, great ambience, and exceptional customer service, the store will captivate the hearts of jewellery enthusiasts in the town. Borivali store has been designed with a focus on offering the comfort and convenience of the customers. The thoughtfully curated interiors with special sections that showcase the popular sub-brands of Malabar are sure to elevate the in-store experience. The store has an unparalleled range of exquisite designs, catering to diversified customer preferences, occasions, and budgets. I welcome all to visit our Borivali store to experience the world-class shopping experience."
Anil Kapoor, legendary actor and brand ambassador of Malabar Gold & Diamonds said, "I have a long association with Malabar Gold & Diamonds. Their intricate craftsmanship and exquisite jewellery collections, transparent trade practices and policies and customer-focused approach have made them a leading name in the jewellery retail markets in India and beyond. Opening their store in my home city is definitely a special moment for me. I urge all to enjoy a world-class shopping experience at Malabar Gold & Diamonds' Borivali store."
As part of the inaugural offer and as a special gratitude gesture during the festive season, Malabar Gold & Diamonds has rolled out a few exclusive offers for the customers at the Borivali store. On purchase of every ₹30,000 worth of gold jewellery, the customers will get a free 100 mg gold coin. Also, they can avail 30% off on making charges on gemstone and polki jewellery and 30% off on the diamond value as well. HDFC credit card holders will get an exclusive benefit for purchases above ₹50,000 – an additional 5% instant discount, up to ₹3000. Customers can also enjoy special privileges for wedding purchases by booking jewellery by paying a minimum of 5% onwards and 100% exchange value when renewing old Malabar Gold & Diamonds' diamond jewellery.
Discerning customers can indulge in the unmatched varieties from the renowned sub-brands of Malabar, including Mine diamond jewellery, Ethnix handcrafted designs, Precia gemstone collections, and more. Meticulously crafted by expert craftsmen of Malabar, the extensive selection caters to diverse customer preferences, occasions, and budgets, ensuring every customer leaves the store with pieces that match their requirements.
Customers can shop for stunning pieces at truly fair making charges and reasonable pricing with Malabar's Fair Price Promise. Strengthening the brand's commitment to its customers, Malabar Gold & Diamonds offers 10 promises. The Malabar Promises include a transparent price tag indicating stone weight, net weight, and stone charge of the jewellery; assured lifetime maintenance for the jewellery; 100% value for gold when reselling old gold jewellery; 100% HUID compliant gold, IGI, and GIA certified diamonds ensuring a 28-point quality check of global standards; a buyback guarantee, responsible sourcing; and fair labour practices.
About Malabar Gold & Diamonds:
Malabar Gold & Diamonds was established in 1993 and is the flagship company of Malabar Group, a leading diversified Indian business conglomerate. With an annual turnover of $5.2 billion, the company currently ranks as the 6th largest jewellery retailer globally and today has a strong retail network of 333 outlets spread across 11 countries in addition to multiple offices, design centres, procurement centres, and factories spread across India, Middle East, Far East, the USA & the UK. The group, owned by more than 4,000 shareholders, has more than 21,000 employees from over 26 countries working towards its continued success. Malabar Gold & Diamonds also features an online store www.malabargoldanddiamonds.com providing customers the opportunity to purchase their favourite jewellery at any time and on any day from the comfort of their homes.
The group also operates MGD – Lifestyle Jewellery, a retail concept offering trendy and lightweight jewellery that represents the independent and the modern woman through its designs and collections. ESG (Environmental, Social & Governance) has been the primary commitment of the group since its inception. The key ESG focus areas of Malabar Group are Health, Housing, Hunger Free World, Education, Environment, and Women empowerment. Integrating the principles of responsibility and sustainability into its core business, Malabar Group periodically strengthens its ESG goals to remain a socially conscious and responsible organization. The group contributes 5% of its profit to such initiatives in the same country of operation.