Divine Solitaires Presents Keys to Grand Bumper Draw Winner
DIVINE SOLITAIRES PRESENTS KEYS TO GRAND BUMPER DRAW WINNER
31st October 2023
The Solitaire Festival of India, India largest diamond festival, held by Divine Solitaires in over 100 cities in India concluded last month and it proved to be an unqualified success that brought thousands of customers to the jewellery stores and started the season with a bang. Across the country footfalls increased 2.5 times at its 180+ partner jeweller stores and customers got more than 6000 assured gifts on purchases and 50+ prizes were won in Mega Weekly Draws and the Grand Bumper Draw including XUV 700, Cars, smartphones, laptop, consumer electronics and diamond coins
This year, Ms. Shikha Bhaduri was the proud winner of Mahindra XUV 700 in the Grand Bumper Draw and Mr. Suvankar Sen, MD and CEO of Senco Gold and Diamonds, presented the keys of the car to her in presence of Mr. Jignesh Mehta, Founder and MD of Divine Solitaires here in a glittering ceremony at Kolkata. Ms Bhaduri had purchased from Senco Gold and Diamonds store at Camac Street, Kolkata. "I couldn't believe my ears when I heard my name announced on the live draw show. It is a dream car for me, and I thank Divine Solitaires and Senco Gold and Diamonds for making it true." said Ms Bhaduri on receiving the keys to her new XUV car.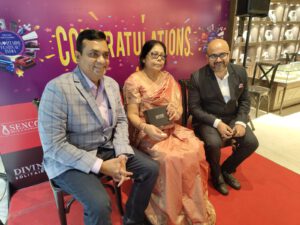 In Kolkata, Divine Solitaires is available at all the 15 Senco Gold and Diamond stores in the city. The promotion received overwhelming response, and many customers won prizes like consumer durables and diamond coins apart from the assured gifts. At the recently held Divine Solitaires – Solitaire Festival Awards in Mumbai, Senco Gold & Diamonds won the 'Best Chain Store' award for its outstanding performance and contribution to the success of The Solitaire Festival of India.
Mr. Suvankar Sen said, "Our association with Divine Solitaires goes back to 2014. We are committed to bringing the best to our customers and our association with Divine is a testament to that. We strongly believe that brands like Divine and Senco will bring greater trust and transparency to the consumer." Mr. Jignesh Mehta added, "Our goal is to give greater confidence to the consumer to invest in solitaire diamond jewellery and see it as true assets and with TSFI we got to see great enthusiasm among our partner jewellers and customers alike. I congratulate and thank everyone – the winners, our customers our partner jewellers and especially Mr Suvankar Sen to making it a grand success."
About Divine Solitaires:
Divine Solitaires is the most trusted brand of solitaire diamonds in India. It is known for high quality craftsmanship that ensures all diamonds are of the highest cut grade, polish and symmetry and displays hearts and arrows. It has set a benchmark for authenticity and price transparency in the market. Divine Solitaires also offers an extensive range of solitaire jewellery which can be readily customised with the solitaire diamond of choice. Available at more than 185 partner jewellers across the country and online at www.divinesolitaires.com. Divine Solitaires is brand of R S Diamonds Pvt Ltd
About Senco Gold & Diamonds:
Senco Gold and Diamonds is a brand owned by Senco Gold Limited with a legacy of over five decades. Senco is a brand of Legacy, Quality, Trust & Value. It has 107+ jewellery stores in the country and growing.