DJGF 2023 Wraps Up on a High Note: North India's Premier International Jewellery Trade Show
DJGF 2023 WRAPS UP ON A HIGH NOTE: NORTH INDIA'S PREMIER INTERNATIONAL JEWELLERY TRADE SHOW
8th October 2023
The 11th installment of the Delhi Jewellery and Gem Fair (DJGF) came to a dazzling close at the Pragati Maidan recently. Hosted by Informa Markets in India, a prominent B2B event organizer, DJGF, the premier international jewellery trade show in North India, showcased its largest edition to date, covering an expansive area of 2.60 lakh square feet across four halls. Over 550 exhibitors showcased 1500+ brands with products of different styles and designs ranging from Gold, Diamonds, Gemstones and pearls, and Silver to Loose stones categories, Mughal antique, Polkis, Kundan, and Navratna jewellery along with machinery, Tools and equipment, Technology & allied services at the event
The Grand inauguration ceremony witnessed the esteemed presence of Chief Guest, Ms. Ishita Sharma, Indian Actress; Ms. Nirupa Bhatt – Gems and Jewellery Industry Expert, Leadership Circle Practitioner; Mr. Yogesh Singhal, Chairman TBJA, Delhi; Mr. Ashok Sheth Regional Chairman (North India) for GJEPC; Ms. Hetal Vakil Valia, Founder of Vakil's Academy of Jewellery Design & Chairperson, Women Wing of IBJA; Mr Christopher Eve, Senior Vice President, Informa Markets in India; Mr. Yogesh Mudras, Managing Director at Informa Markets in India, and Ms Pallavi Mehra, Senior Group Director, Informa Markets in India, among other industry leaders.
Supported by organizations like The Bullion & Jewellers Association, Delhi Jewellers Association, Karol Bagh Jewellers Association, Maliwara Jewellers Association, and All Jewellery Associations of North India and many more, DJGF represented the entire jewellery ecosystem, from wholesalers to retailers, manufacturers, gemstone suppliers, and more.
Mr. Yogesh Mudras, Managing Director of Informa Markets in India, expressed, "Delhi Jewellery & Gem Fair has consistently exemplified the dynamism and innovation that define India's jewellery landscape. With the 11th edition, we renew our commitment to provide a platform that showcases the industry's brilliance and fuels its growth through valuable networking and business prospects. Attracting participants from leading Indian regions, this fair unlocks a plethora of opportunities for wholesalers, retailers, manufacturers, importers, exporters, industrialists, and investors."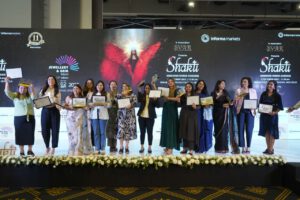 Notably, this year's iteration had an exciting array of highlights that underscored DJGF's commitment to excellence and innovation within the industry including India's Biggest Lab-grown Diamond Pavilion; the DJGF Silver Launch, a dedicated platform showcasing the splendour of silver jewellery; DJGF Rising Star Pavilion that provided a stepping stone for rising jewellery industry players, the DJGF Shakti Awards 2024 that celebrated the outstanding accomplishments of women in the industry, DJGF Samvad in collaboration with SVAR: A captivating podcast series that delved into the inspiring journeys of industry influencers.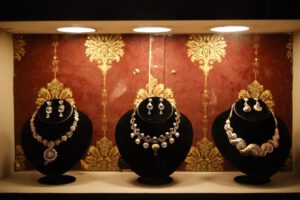 A knowledge seminar also went underway with industry experts sharing their insights on the jewellery business and its growth in the country. Some of the panel discussions and presentations included – 'Past, Present and Future of Jewelry industry', Existence is Co-Existence', 'E-commerce Masterclass: Frontiers of the Future in Jewelry Retail' and 'Creation, evolution and usage of lab-grown diamonds' to name a few.
Day 1 evening witnessed the much-coveted Retail Jewellers Guild Awards, took place, honouring outstanding jewellery retailers in multiple categories, with over 40 companies taking part and more than 330 nominations received. Additionally, there was a glamorous Fashion Show Night with star show-stoppers, spotlighting pioneering brands, innovative designs, and their latest jewellery collections.
The show saw impressive participation from the buyer-seller community from States such as Delhi, Haryana, Chandigarh, Punjab, Uttar Pradesh, Himachal Pradesh, Uttarakhand, Rajasthan, Jammu & Kashmir neighbouring states from North India and other parts of the country. It has provided networking and expansion opportunities to Jewelry wholesalers, retailers, importers, exporters, Jewelry manufacturers, diamonds, gemstones, Pearl suppliers, traders, precious metal and Jewelry mounting traders and suppliers, and representatives from trade and governmental organizations.
With the DJGF 2023, Informa Markets in India formally launched its 4th edition of the Festivity of Business campaign for this year's high season. As the autumn season blankets India with its diverse array of festivals, the initiative will be a vibrant tribute to India's economic triumphs and its burgeoning global influence. This year, our initiative encompasses a rich tapestry of over 40 events in the next three months, including ten signature Expos, along with distinctive Conferences, Industry Awards, Buyer-Seller Meets, and Training programmes in influential sectors. All these are poised to elevate the nation to new heights.
About Informa Markets:
Informa Markets creates platforms for industries and specialist markets to trade, innovate and grow. Our portfolio is comprised of more than 550 international B2B events and brands in markets including Healthcare & Pharmaceuticals, Infrastructure, Construction & Real Estate, Fashion & Apparel, Hospitality, Food & Beverage, and Health & Nutrition, among others. We provide customers and partners around the globe with opportunities to engage, experience and do business through face-to-face exhibitions, specialist digital content and actionable data solutions. As the world's leading exhibitions organizer, we bring a diverse range of specialist markets to life, unlocking opportunities and helping them to thrive 365 days a year.
For more information, please visit www.informamarkets.com
About Informa Markets and our business in India:
Informa Markets is owned by Informa PLC, a leading B2B information services group and the largest B2B Events organizer in the world. Informa Markets in India (formerly UBM India) is India's leading exhibition organizer, dedicated to help specialist markets and customer communities, domestically and around the world to trade, innovate and grow through exhibitions, digital content & services, and conferences & seminars. Every year, we host over 25 large-scale exhibitions, and 40 conferences, along with industry awards and training across the country: thereby enabling trade across multiple industry verticals. In India, Informa Markets has offices in Mumbai and New Delhi.