GRT Jewellers makes this Deepavali more Dazzling
GRT JEWELLERS MAKES THIS DEEPAVALI MORE DAZZLING
31st October 2023
On the occasion of Deepavali-the festival of lights and spreading smiles, GRT Jewellers brings in more smiles to their patrons by launching its more popular Thanga Deepavali Offer in Tamil Nadu & Swarna Deepavali in Andhra Pradesh, Telangana and Karnataka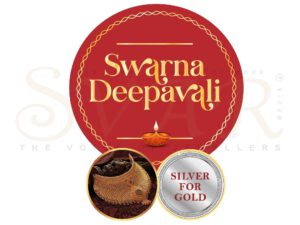 GRT Jewellers, A household name with a legacy since 1964 stands strong on the pillars of trust, purity, and craftsmanship. Over the years, GRT Jewellers has established as a symbol of excellence in the jewellery industry, providing a diverse range of collections for every occasion. Each master piece is handcrafted with meticulous attention to detail by master artisans.
GRT Jewellers offers largest collections and latest designs which are exquisite, traditional and contemporary in Gold, Diamond, Platinum, Silver and Gemstones which adds shine to the golden moments of their customers.
Now on the occasion of Deepavali-the festival of lights and spreading smiles, GRT Jewellers brings in more smiles to their patrons by launching its more popular Thanga Deepavali Offer in Tamil Nadu & Swarna Deepavali in Andhra Pradesh, Telangana and Karnataka.
With this offer, the Customers get free silver equivalent to the weight of Gold they buy. And to add to this stunning offer, they can also get 25 grams of silver free per carat of Diamond, 25% off on making charges for silver articles and 10% off on MRP for silver jewellery.
Speaking on the launch of the offers Mr. G.R. 'Anand' Ananthapadmanabhan, MD of GRT Jewellers said "We are thrilled to bring Deepavali to life with our special offers, designed to add more joy to the festival. GRT Jewellers has always stood for trust, purity, and craftsmanship. This Deepavali we invite our customers to be a part of the celebration and to create timeless memories with our exquisite collection".
To this Mr. G.R. Radhakrishnan, MD of GRT Jewellers added "Our Deepavali offers reflect our commitment to providing our valued customers with not just jewellery, but cherished and memorable shopping experience and we truly want our customers to carry home more than what they purchase at GRT Jewellers."