Kalyan Jewellers kickstarts Diwali festivities with launch of its star-studded Diwali ad campaign
KALYAN JEWELLERS KICKSTARTS DIWALI FESTIVITIES WITH LAUNCH OF ITS STAR-STUDDED DIWALI AD CAMPAIGN
31st October 2023
Kalyan Jewellers has kickstarted its Diwali festivities with the launch of its star-studded campaign ad featuring the brand's esteemed ambassadors. Brand ambassador Amitabh Bachchan headline this iconic campaign ad, alongside Jaya Bachchan, Katrina Kaif, Akkineni Nagarjuna, Prabhu Ganesan, Shiva Rajkumar, Rashmika Mandanna and Kalyani Priyadarshan. Building on the rich legacy of the iconic #TraditionOfTogetherness campaign, the ad film beautifully underscores the essence of Indian values and the deep bonds within families
The enchanting retro-inspired music creates a heartfelt nostalgia, weaving a tale that cherishes the spirit of togetherness and pays a poignant homage to India's vibrant cultural tapestry. It beautifully captures the essence of celebrating familial ties during this auspicious season, enveloping viewers in the warm embrace of cherished traditions.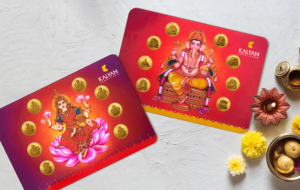 While, Katrina Kaif, Akkineni Nagarjuna and Shiva Rajkumar share screen space for the first time skilfully portraying the bond shared by siblings in the campaign ad. The 1-minute ad film also brings forth the timeless romance of the power couple, Amitabh and Jaya Bachchan, exuding a seamless chemistry, complemented by Kalyani Priyadarshan in the role of their granddaughter. Simultaneously, it features Rashmika Mandanna with Prabhu Ganesan in an iconic portrayal, brilliantly depicting the father-daughter relationship in a heart-warming manner.
Celebrating this auspicious time of the year in unique fashion, Kalyan Jewellers has also announced the launch of specially curated gold coins, featuring iconic designs of Lord Ganesha and Goddess Lakshmi in both 22-carat and 24-carat. These limited edition coins are available in varied weights starting from 2 grams going up to 8 grams, providing patrons with the flexibility and customized shopping experience.
Speaking about the campaign, Mr. Ramesh Kalyanaraman, Executive Director – Kalyan Jewellers said, "We are delighted to present this meaningful campaign, celebrating the importance of familial bonds and the rich cultural traditions that unite us during Diwali. This festival holds great cultural significance and represents a time of immense joy for all. Through this initiative, our aim is to convey the essence that Diwali is a time to cherish the bonds that define our identity. It is an honour for us at Kalyan Jewellers to launch a campaign that encapsulates the true spirit of these celebrations, beautifully portrayed by our iconic brand ambassadors and legendary superstars."
Check out the campaign ad here: https://www.youtube.com/watch?v=CTrWSidFv-A
As part of the Diwali offer, Kalyan Jewellers is offering customers with a complimentary 1-gram gold coin on every Rs. 50,000*. This offer is applicable on a minimum purchase of Rs. 1 lakh.
The jewellery retailed at Kalyan Jewellers is all BIS hallmarked and goes through multiple purity tests. Patrons will also receive Kalyan Jewellers' 4-Level Assurance Certificate, which guarantees purity, free lifetime maintenance of ornaments, detailed product information, and transparent exchange and buy-back policies. The certification is part of the brand's commitment to offering the very best to its loyalists.
Kalyan Jewellers stock popular house brands, such as Lila – diamonds & semi-precious stone jewellery, Tejasvi – Polki jewellery, Mudhra – handcrafted antique jewellery, Nimah – temple Jewellery, Glo – dancing diamonds, Ziah – Solitaire-like diamond jewellery, Anokhi – uncut diamonds, Apoorva – diamonds for special occasions, Muhurat – wedding jewellery, and Rang – precious stones jewellery.
For more information on the brand, its collections and offers, visit https://www.kalyanjewellers.net/
T&C Apply*