Senco Gold & Diamonds enters Metaverse, redefines jewellery shopping experience with 'Sencoverse'
SENCO GOLD & DIAMONDS ENTERS METAVERSE, REDEFINES JEWELLERY SHOPPING EXPERIENCE WITH 'SENCOVERSE'
21st September 2023
Senco Gold & Diamonds, India's leading jewellery retailer with a legacy of over five decades, has taken a major step forward in the fast-evolving digital landscape by launching its first virtual showroom, 'Sencoverse' on the metaverse. It is India's first virtual jewellery showroom on metaverse aimed at connecting with the new age customers to redefine their shopping by providing them a more customized and seamless experience
Sencoverse, the digital platform from Eastern India's largest jewellery retailer, is a convergence of technology and artistry to bring the brand's exquisite jewellery to life in the virtual realm. The initiative offers an end to end shopping experience to customers, from hassle-free browsing of the virtual showroom to selection of items to receiving the chosen pieces at their doorsteps.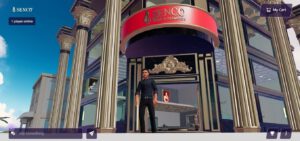 Customers can access 'Sencoverse' from the comfort of their digital devices from anywhere by simply visiting https://www.sencoverse.com/ and entering some basic information.
Expressing his delight at the launch of this new initiative, Mr. Suvankar Sen, MD & CEO of Senco Gold & Diamonds, said,
'The launch of Sencoverse marks a significant leap in our digital transformation journey and our commitment to offer exceptional and hassle-free shopping experiences to our valued customers.
We believe that the digitally savvy millennials and Gen Z shoppers are the future of retail, and we want to be at the forefront of providing them with the personalized and convenient shopping experiences they want and need.
With Sencoverse, we are confident that they will embrace this innovative way of shopping. This initiative is not only a testament to our commitment to innovation, but also a strategic move into the future of retail.'
Sencoverse offers an immersive, interactive, and gamified shopping experience. It allows customers to explore a meticulously designed virtual showroom, currently featuring a diverse collection of over 100 exquisite jewellery products. The showroom provides 360-degree views of jewellery items in stunning 3D detail, along with interactive features for zooming in on details and learning more about the products, enabling customers to experience the elegance of these finely crafted pieces in a whole new dimension. The showroom also has an integrated Try On feature, allowing customers to virtually try on jewellery items using augmented reality technology and visualize how each piece complements their appearance.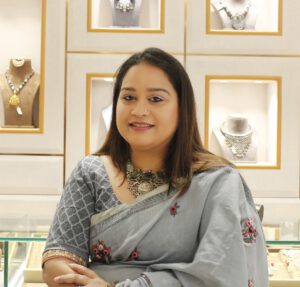 Commenting on this, Mrs. Joita Sen, Director and Head of Design & Marketing, Senco Gold & Diamonds, stated, 'We are excited to announce the launch of Sencoverse, India's first virtual jewellery showroom on the metaverse. This is a major milestone in our journey to offer innovative services to our customers. Senco Gold & Diamonds is one of India's most trusted brands, known for its craftsmanship and quality. We are proud to continue this tradition in the digital realm with Sencoverse. It currently showcases 100 of our exquisite products from the Everlite Collection and others, and we plan to expand our product range in a phased manner. On this special moment, we invite our customers to explore Sencoverse and experience the beauty of our jewellery in an entirely new way.'
As an engaging addition to the virtual shopping platform, Senco Gold & Diamonds has also announced a launch of a treasure hunt game within the platform. There are four missing jewellery pieces hidden throughout the Sencoverse. Users who can locate all four pieces will be rewarded with 500 Reward Points. These points can be redeemed at any Senco store for exciting discounts and offers.
About Senco Gold & Diamonds:
Senco Gold & Diamonds is a leading pan-India jewellery retail player which recently achieved a significant milestone of getting listed on NSE and BSE. With a legacy of more than five decades, Senco Gold & Diamonds is the largest jewellery retail player in the eastern India based on number of stores. Senco has over 144 showrooms spread across India with a mix of Own and Franchisee model and having various formats like D'Signia, Everlite and Standard to cater to various customer segments.
The Company offers an extensive range of jewellery, including gold, diamond, silver, platinum, as well as precious and semi-precious stones. With a catalogue offering more than 130,000 designs for gold jewellery and more than 72,000 designs for diamond jewellery, Senco offers a large variety of designs of handcrafted jewellery, most of which are designed in-house by its designers in close collaboration with skilled local craftsmen and karigars in Kolkata and across the country.
The company has Brand Ambassadors like Kiara Advani, Vidya Balan and former Indian cricket legend Sourav Ganguly. Company's brands include Everlite, focused on lightweight jewellery; Gossip, the silver and costume jewellery brand; D'Signia showroom format which offers a premium jewellery retail shopping experience to its connoisseur customers. Senco Gold & Diamonds also has an Aham collection of jewellery catering to men; and a Vivaha collection, which is a premium designer wedding jewellery range.