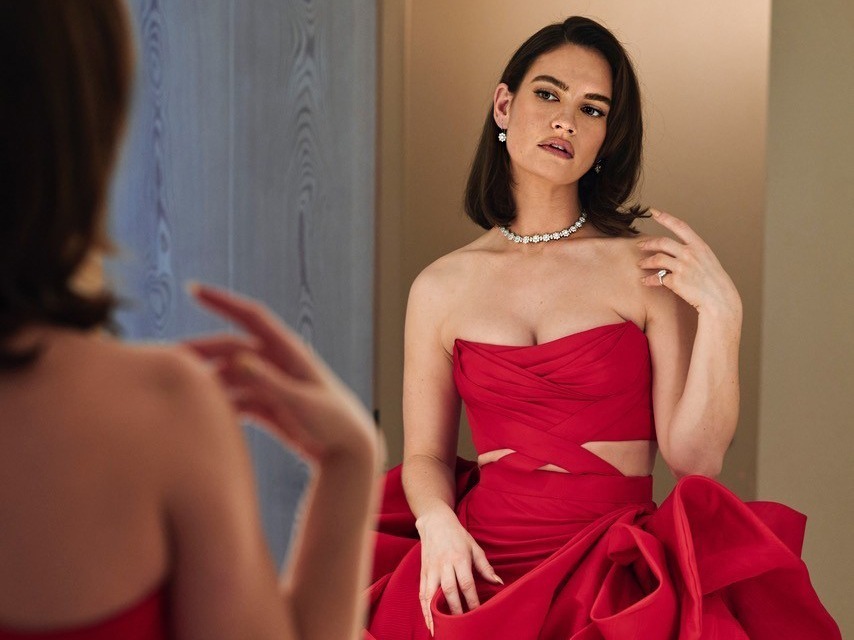 Lily James, Global Ambassador for The Natural Diamond Council dazzles on the red carpet draped in classic, glamorous natural diamonds from Harry Winston
LILY JAMES, GLOBAL AMBASSADOR FOR THE NATURAL DIAMOND COUNCIL DAZZLES ON THE RED CARPET DRAPED IN CLASSIC, GLAMOROUS NATURAL DIAMONDS FROM HARRY WINSTON
11th January 2023
Natural Diamond Council Global Ambassador & Golden Globe Award Nominee Lily James Steps into Her Light on 80th Annual Golden Globe Awards Red Carpet Evoking Hollywood Glamour Sparkling in Classic Natural Diamonds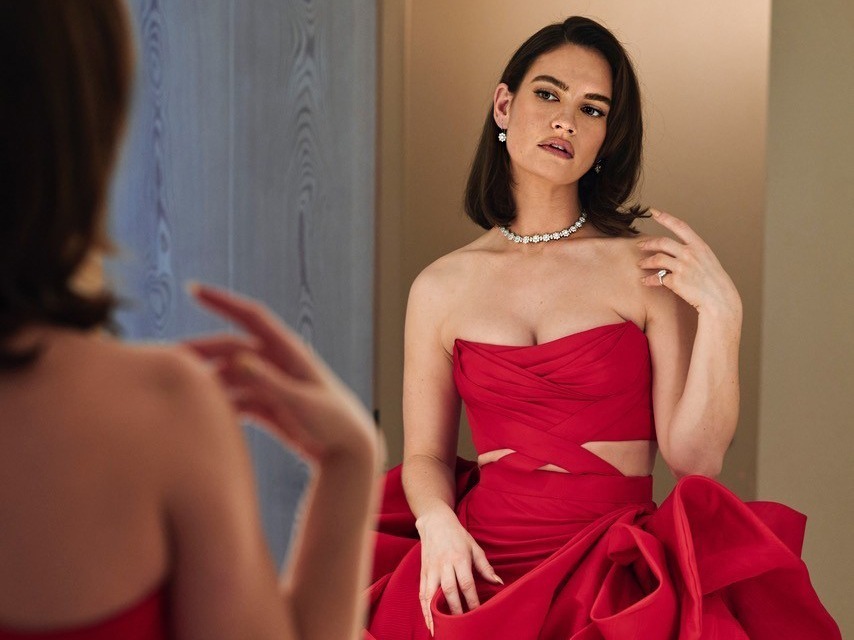 Lily James, Global Ambassador for The Natural Diamond Council and Hollywood darling, dazzles on the red carpet draped in classic, glamorous natural diamonds from Harry Winston for her red-carpet appearance at the 80th Annual Golden Globe Awards. She selected an incredible natural diamond choker and brilliant natural diamond earrings paired with a crimson red Versace gown.
Her classic and timeless jewels are reminiscent of the elegant Old Hollywood era and the icons that graced the silver screen. Featuring generous carats of brilliant natural diamonds along with complementary accent stones, the combination of stunning natural diamond pieces shines brightly on the red carpet.
"Look at these incredible natural diamonds!" says Lily James, Natural Diamond Council Global Ambassador. "When you have amazing diamonds, they take all the attention. You let the diamonds do the talking. They truly define Hollywood glamour, and are so much more meaningful to me now that I have visited Botswana and witnessed the positive contributions natural diamonds are making their along with other regions of the world."
Lily James is nominated as Best Actress in a Limited Series, Anthology Series, or Television Motion Picture for her role as Pamela Anderson in Pam & Tommy.
WHEN: Tuesday, January 10th 2023
WHERE: The Beverly Hilton, Los Angeles, California
Red carpet coverage to follow on Only Natural Diamonds. 
ABOUT THE NATURAL DIAMOND COUNCIL
The Natural Diamond Council (NDC) inspires and informs consumers about the incredible world of natural diamonds through its Only Natural Diamonds platform. The platform is the authoritative publisher on all things natural diamonds including celebrities and pop culture, epic diamonds and jewellery trends, engagements and weddings, and diamond buying guides.
The NDC supports the integrity of the natural diamond industry by providing transparency and insight on the progress of this sector and its commitments to further betterment. NDC is global organization whose members' operations span four continents and ten countries including Canada, South Africa, and Botswana. Their operations support the livelihood of 10 million industry employees and their families around the world