Jos Alukkas Expands Presence with Second Jewellery Showroom in Trichy
JOS ALUKKAS EXPANDS PRESENCE WITH SECOND JEWELLERY SHOWROOM IN TRICHY
4th November 2023
The largest jeweller in the city is now Jos Alukkas. The grand opening of the Jos Alukkas' second showroom in Trichy was inaugurated by esteemed Minister K.N. Nehru. The event's allure was enhanced by the presence of esteemed chief guests, Trichy Mayor, Mu. Anbalaagan, Deputy Mayor, G. Dhivya, and Actress, Aishwarya Rajesh. The new showroom is located in Karur bypass road, Annamalai Nagar, Trichy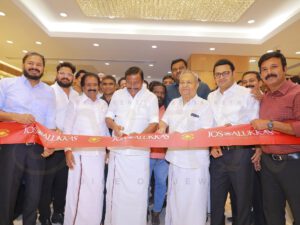 Jos Alukkas Chairman, Jos Alukka, Managing Directors, Varghese Alukka, Paul J Alukka and John Alukka attended the function.
An exclusive inaugural offer entails customers receiving a complimentary gold coin upon making a minimum purchase of Rs.50,000 worth of gold jewellery, available until November 8. Customers can avail of a noteworthy 20% discount on diamonds and a generous 7% discount on platinum jewellery. With an enticing offer, the showroom is introducing making charges starting at a mere 3.99%. Additionally, there is a free gift with every purchase.
Customers can enjoy a 0% making charge when buying silver ornaments, including toe rings, anklets, and waist chains. They will receive a gold coin, a diamond necklace, and a diamond pendant as gifts when they purchase diamonds that meet a specified amount. Jos Alukkas is currently offering significant discounts on wedding purchases from our exquisite jewellery collection. We invite customers to exchange their old gold for HUID-hallmarked gold jewellery and take advantage of the associated benefits.
The launch of the new and grander jewellery again in Trichy is part of Jos Alukkas' expansion plan" – said Chairman Jos Alukka, Jos Alukkas
The new showroom is showcasing Jos Alukkas' exclusive sub-brands like Shubha Mangalyam Bridal Collections – 2023 Festive Edition, Parampara Collections, and Ivy Collections.
With an impressive 59-year legacy in the jewellery retail sector, Jos Alukkas has already unveiled an expansion plan, which is the largest in the market, aiming to launch 100 new jewellery stores.